The Agnes Etherington Art Centre at Queen's University in Kingston announced a donation of twelve Dutch and Flemish paintings. The paintings have been gifted by Isabel Bader, the wife of the late Dr. Alfred Bader. The recent donation was not meticulously planned. Instead, according to the Agnes, it was a spontaneous offer from Isabel Bader to support an exhibition organized by Dr. Suzanne van de Meerendonk, the new Bader Curator of European Art.
Van de Meerendonk organized the exhibition Studies in Solitude: The Art of Depicting Seclusion and found two paintings in The Bader Collection that would be perfect for the exhibition. She called Isabel Bader to see if she could borrow those paintings. "She said she would be willing to lend them," says Van de Meerendonk, "but then she decided that she would rather gift them to us." Isabel then expanded on her offer. "She indicated that she would be willing to add more works to the gift if I thought they could be helpful, either for this exhibition or for a future exhibition."
Van de Meerendonk chose ten paintings in addition to the two she had earmarked for Studies in Solitude. The paintings – predominantly seventeenth-century Dutch still lifes, Biblical scenes, and scenes from daily life – enhance the Agnes Etherington Art Centre's ability to shed light on early modern European art, life, and material culture. The donation consists of the following paintings:
Pieter Claesz, Still Life with a Rummer and a Shrimp, 1646
Carstian Luyckx, Still Life with Gilt Cup, Glass Holder, Silver Beaker, Nautilus Shell, Fruit and Oysters Arranged on a Draped Ledge, ca. 1650
Constantijn Verhout, A Man Looking into a Jug, possibly Cornelis Abrahamsz. Graswinckel, 1662
Jacobus Vrel, A Woman Darning a Stocking, ca. 1654
Unknown Artist (after Rembrandt), David Presenting the Head of Goliath to Saul, after 1639
Unknown Artist, Mountain Landscape with a View of a Walled Town, ca. 1640
Heyman Dullaert, Young Scholar in his Study, ca. 1655
Jacob Foppens van Es, Still Life with Lobster on a Pewter Plate, after 1617
Unknown Artist, Portrait of a Woman, ca. 1625
Master I.S., Two Scholars in a High Room, 1640
Jan van Noordt, Joseph Selling Grain in Egypt, ca. 1675
Jan Peeters I, A Ship in a Stormy Sea, ca. 1645–52
Two of the paintings, Heyman Dullaert's Young Scholar in his Study and A Woman Darning a Stocking by Jacob Vrel, are on display at the museum until June 2022 in the exhibition Studies in Solitude. The rest remain in storage for now but will be incorporated into future exhibitions.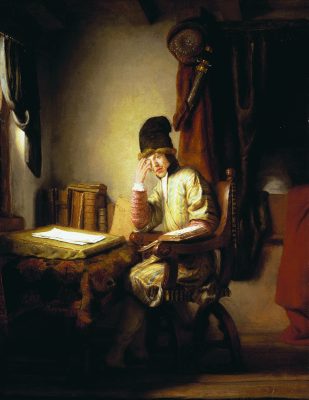 [text via codart.nl]