The Art Institute of Chicago is pleased to announce the acquisition of Venus, Cupid and Ceres by Cornelis Cornelisz. van Haarlem (1562-1638). Monogrammed and dated 1604, the painting is the earliest of three interpretations of the subject (Gemäldegalerie, Dresden and Palais des Beaux-Arts, Lille) by the artist.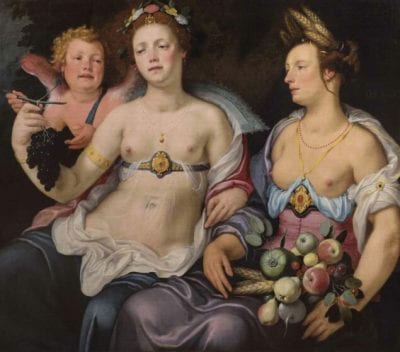 The work depicts the goddesses of beauty and grain, joined by the cherubic god of love, in a verdant landscape. The bunch of grapes offered by Cupid to Venus is an allusion to the god of wine, Bacchus, and it transforms the scene into a clever reference to the ancient witticism, Sine Cerere et Libero friget Venus (Without food and drink, love grows cold). "We are very excited to bring this exquisite painting into our collections," said Jacquelyn N. Coutré, Eleanor Wood Prince Associate Curator of European Painting and Sculpture before 1750. "With its luminous palette and classicizing treatment of the nude, it demonstrates the softer approach to Mannerism that prevailed in Haarlem after 1600. It will amplify the stories that we can tell in our galleries about working after life and artistic exchange in the United Provinces."
The painting will be hung during the reinstallation of the Northern European galleries in October 2020.
[text via codart.nl]