February 6-7, 2020
Rijksmuseum, Amsterdam (in collaboration with the Rembrandt House Museum and the RCE)
Drawings by Rembrandt
Rembrandt's drawings constitute a core part of the oeuvre of this incessantly creative and consistently experimental artist. Except for a small number of finished drawings that can be regarded as independent works of art, most of Rembrandt's drawings are compositional sketches, works drawn from life or from memory and working drawings that were intended only for the eyes of the artist and his workshop. As a result, they offer a special insight into Rembrandt's artistic process and unmatched talent.
New research techniques
Recent technological developments in digital imaging and scientific analysis have stimulated the Rijksmuseum and other major institutions to apply new techniques to the drawings of Rembrandt and his pupils. Combining new insights into the material characteristics of drawings and their changes over time with the art historical implications of these discoveries greatly enriches our knowledge of one of the most important artists of all time.
The symposium
With this symposium, scheduled to take advantage of progress made during research and exhibitions held in 2019 on the occasion of the 350th anniversary of the artist's death, the organizers aim to stimulate the exchange of ideas between different disciplines. We believe in the benefits of shared knowledge, bridging professions such as (art)history, material-technical research, digital imaging and conservation. The symposium will be open to art historians, curators, paper conservators, art technologists and all professionals interested in the study and preservation of drawings by Rembrandt and his school.
Programme
The programme comprises a 2-day symposium with lectures, interdisciplinary discussions, workshops, guided tours and a visit with evening reception to the exhibition Rembrandt Laboratory at the Museum the Rembrandthuis in Amsterdam.
You can download the Programme here (pdf)
You can download the Workshops list here (pdf)
After registration and payment, you can sign up for the workshops of your choice.
Organized by
Rijksmuseum Amsterdam, Cultural Heritage Agency of the Netherlands (RCE) and Museum Het Rembrandthuis
For more information, see the symposium website.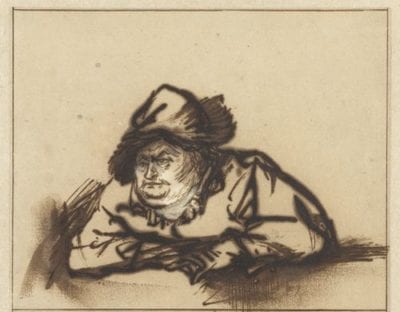 Rembrandt van Rijn, Acteur Willem Bartholsz Ruyter also boer, c. 1638. Rijksmuseum.