Vassar College's Frances Lehman Loeb Art Center will present the exhibition Changing Forms: Metamorphosis in Myth, Art, and Nature, 1650–1700, on view September 28 through December 19, 2021 in the Loeb's Focus Gallery.
The exhibition, curated by Dr. Elizabeth Nogrady, Andrew W. Mellon Curator of Academic Programs at the Loeb, and Dr. Lara Yeager-Crasselt, Curator of The Leiden Collection, brings together approximately twenty paintings, drawings, prints, specimens, and illustrated books to explore the rich and varied concept of "metamorphosis" in the late seventeenth-century Netherlands. With links to art, myth, science, and the exchange of knowledge, metamorphosis provides a vital lens through which to explore and understand an evolving early modern world.
Changing Forms focuses on the idea of metamorphosis at a dynamic moment in the late 1600s, when the notions of myth, art, and science converged in new, urgent ways. Painters such as Godefridus Schalcken, Willem van Mieris, and Samuel van Hoogstraten created their own mythological imagery with the more refined and elegant language of classicism. This tradition will be demonstrated in the exhibition by works such as Samuel van Hoogstraten's Salmacis and Hermaphroditus (ca. 1671–76), which has never before been shown in a museum exhibition, as well as paintings of the goddess Diana by Godefridus Schalcken and Willem van Mieris, all on loan from The Leiden Collection, the preeminent private collection of Dutch art in the United States.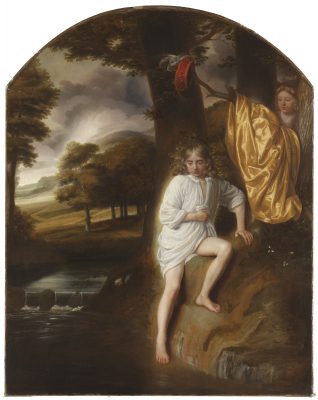 At the same time, the exhibition demonstrates how contemporaries explored biological metamorphosis in lavishly illustrated insect studies. Key books to emerge in this context were Johannes Goedaert's Metamorphosis naturalis and Maria Sibylla Merian's Metamorphosis insectorum Surinamensium, which amassed new knowledge from Indigenous and enslaved people in South America. These stunning books come from Vassar collections and include significant loans from Cornell University, Bard College, and Lehigh University. A centerpiece of the exhibition is Willem van Mieris' Portrait of Dina Margareta de Bye (1705) from The Leiden Collection, which represents this learned woman from Leiden with flowers, shells, paintbrushes, and a painting of a butterfly that closely resembles a page from Merian's text. It thus exemplifies the fascinating intersection of art, nature, and metamorphosis that unites the exhibition.
The exhibition will be accompanied by an exhibition catalogue published by the Loeb Art Center with new scholarship on these themes by Elizabeth Nogrady, Lara Yeager-Crasselt, and Ronald Patkus.
For more information, please visit the Frances Lehman Loeb Art Center's website.