History is not complete without the gaze of women. That goes without saying, but is not yet self-evident. The exhibition Delftse Blik. Historische Vrouwen (Delft View. Historical Women) presents the portraits and original letters of women around William of Orange. With this presentation the museum adds new voices to its permanent exhibition on William of Orange.  The special life stories of these women  are told on the basis of their own letters and share their side of history.
Delftse blik
Net zo bijzonder als de vrouwen uit de 16e eeuw, zijn de verhalen van vrouwen van nu. In video's waarin zij hun verhalen vertellen en portretten waarop deze vrouwen te zien zijn, laten we zien dat thema's als liefde, succes, moederschap en rouw, vrouwen van alle tijden met elkaar verbindt. Daarom presenteren we deze verhalen in de tentoonstelling zij aan zij. De presentatie is onderdeel van het meerjarige project De Delftse Blik en is te zien tot en met 20 februari 2022. Alle verhalen van de historische en hedendaagse vrouwen zijn te lezen op de website van De Delftse Blik.
Op zoek naar nieuwe stemmen
Historische Vrouwen is het eerste themajaar van het vierjarige project De Delftse Blik dat we op Internationale Vrouwendag lanceerde. Met de verhalen van de vrouwen rond Willem van Oranje als startpunt gingen we de afgelopen maanden op zoek naar nieuwe stemmen en bijzondere verhalen van vrouwen uit het Delft van vandaag. Historische Vrouwen toont een aantal van deze verhalen met video's en foto's, samen met de portretten en acht 16e-eeuwse brieven van de vrouwen rond Willem van Oranje. Zo zijn er brieven van zijn echtgenotes, zijn moeder Juliana van Stolberg en zijn dochter Emilia van Nassau. De brieven vormden een inspiratie voor de verhalen van de vrouwen uit Delft. Zo schrijft één van de Delftse vrouwen dat zij blij is dat de tijd gekomen is dat mensen opkomen voor hun eigen wensen, dat ze zich verdiepen in hun afkomst, hun geschiedenis en talenten en durven te zeggen wat zij willen leveren aan de maatschappij.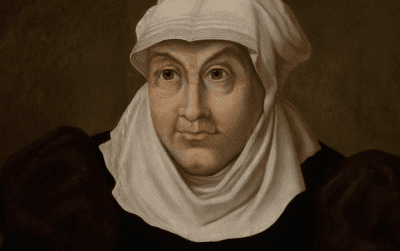 [text via codart.nl]