Women and letters feature prominently in Dutch genre paintings from the second half of the seventeenth century. Captivating images show women reading, writing, and receiving letters, often in the company of books, and exchanging ideas with present or absent companions. Although the contents of these missives are rarely legible, they invite curiosity and contemplation, drawing the beholder into intimate, domestic spaces. Such scenes emphasize women's engagement with the written word and demonstrate a remarkable interest in representing their intellectual lives.
The popularity of epistolary themes in Dutch genre painting reflected a rise in the use of personal correspondence—particularly in the exchange of love letters—among the Dutch upper classes in this period, as well as advances in the postal system and the publication of letter-writing manuals. Rather than situating these scenes exclusively within the tradition of amorous correspondence, however, this exhibition explores how an exceptional group of eight genre paintings by Gabriel Metsu (1629–1667), Frans van Mieris (1635–1681), and Gerrit Dou (1613–1675) contributed to—and challenged—various societal ideas surrounding women's education, literacy, and learning. Drawn from the Timken Museum of Art and The Leiden Collection, these works display a striking modernity in their representation of women, showing them as active participants in a wider cultural sphere.
Exchanging Words is curated by Lara Yeager-Crasselt, The Leiden Collection.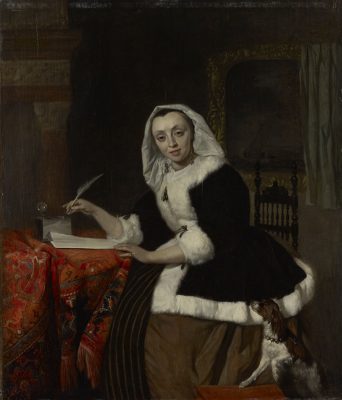 [text via Codart.nl]