This Fall the Philadelphia Museum of Art will present a collection of images of thick, muscly he-men made by artists from two very different historical moments—the Netherlands around 1600 and the United States around 1930—in an exhibition that explores themes of masculinity, nationalism, labor, and homoeroticism. Despite the seeming disparity between these contexts, this exhibition shows how crises like the Great Depression in the United States and the Dutch Republic's war with Spain led artists to create similar images of burly beefcakes, broadcasting messages of strength, security, and vigor. Artists from both periods depicted thickset and musclebound male bodies—often nude—as symbols of national and collective might; as personifications of civic, martial, and masculine virtues; and as demonstrations of their virtuosic command of art and anatomy.
Comprised of around fifty works on paper and structured as a series of comparisons between American and Dutch works, Macho Men highlights how artists from both contexts employed comparable imagery and compositional techniques, often to similar ends. The exhibition includes works by Netherlandish artists Hendrick Goltzius, Cornelis van Haarlem, Jan Muller, and Bartholomeus Spranger; and by American artists Paul Cadmus, Hugo Gellert, Charles Demuth, Michael Gallagher, and Arthur Murphy; among others.
These images—focused as they are on robust male physiques with muscles bulging and bodies intertwined—can be strikingly homoerotic. Yet rather than speculating on particular artists' sexualities, this exhibition examines how artists from two disparate historical moments turned muscular male bodies into symbols loaded with ideological meaning, inviting queer readings without ascribing specific intention. Today, as paradigms of masculinity and sexuality are being reevaluated and overturned, these images present themselves to audiences to be seen and understood anew.
The exhibition is curated by Jun Nakamura, Suzanne Andree Curatorial Fellow in Prints, Drawings, and Photographs at the Philadelphia Museum of Art.
See the the museum website for more information.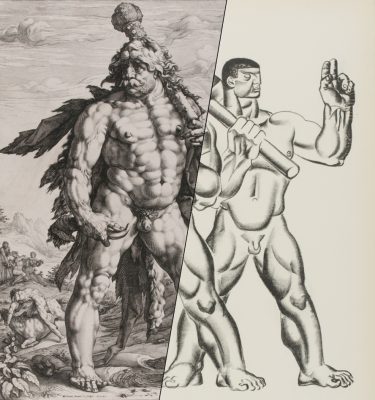 [text via Codart.nl]