The Flemish master Peter Paul Rubens's (1577-1640) passion for the classical past shaped his personal values and provided him with powerful artistic inspiration. Rubens: Picturing Antiquity at the Getty Villa Museum this fall is the first exhibition to focus on Rubens' fascination with the art and literature of ancient Greece and Rome. This single-venue presentation demonstrates some of the intriguing ways in which the innovative artist both celebrated and transformed his diverse sources, including antiquities from his own collection.
"This important exhibition examines how Rubens's fascination with ancient Roman antiquities inspired his many classicizing paintings, which are among the most erudite and sophisticated images in European art," says Timothy Potts, Maria Hummer-Tuttle and Robert Tuttle director of the J. Paul Getty Museum. "Rubens had an extraordinary ability to translate ancient sculptures and gems into dynamic and colorful compositions, adopting the classical attributes of robust strength and idealized beauty as hallmarks of his own art. The first exhibition to focus on this key aspect of European painting, Rubens: Picturing Antiquity will be a rare opportunity to explore the impact that ancient art had on Rubens' distinctively expressive Baroque style."
In 1600, Rubens traveled to Italy and was soon employed as court artist by Duke Vincenzo Gonzaga in Mantua. During the next eight years in Italy, he avidly studied a variety of ancient marble sculptures and reliefs in Mantua and Rome. While in Rome, Rubens was able to gain access to important private collections of antiquities. This immersive experience had a profound impact on his art. On display in the exhibition, Self-Portrait with a Group of Friends in Mantua, his earliest self-portrait, attests to the camaraderie Rubens found among a circle of scholars and artists devoted to the ideals of classical antiquity.
Rubens took an innovative approach to drawing after classical sources. He studied individual sculptures over and over again, copying them from many and often unusual points of view, with painstaking attention to both their overall composition and specific details. Jeffrey Spier, senior curator of antiquities at the Getty Museum and co-curator of the exhibition, emphasizes the importance of rare, portable antiquities to Rubens's pictorial inventions. "Rubens was an avid collector of ancient gems, each a unique work carved by hand. He appropriated and reinterpreted imagery from these rare objects as well as ancient coins for his own compositions."
"Rubens had a unique way of breathing life into the ancient works that inspired him," says Anne Woollett, curator of paintings at the Getty Museum and co-curator of the exhibition. "This exhibition vividly shows how he manipulated his sources from antiquity and brilliantly re-imagined the classical past."
A catalogue, edited by Anne T. Woollett, Davide Gasparotto, and Jeffrey Spier, with an essay by Adriano Aymonino and Eloisa Dodero (Getty Publications), accompanies the exhibition. On 18 November Getty curators Anne Woollett, David Gasparotto and Jeffrey Spier discuss Rubens's activities as a collector of ancient works of art, his role in a lively network of humanist scholars, and how the artist's knowledge of the classical past shaped his creative process in an online talk. For more information and to register, see the website of the museum.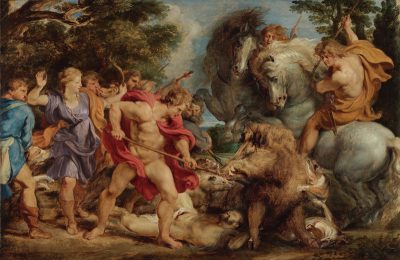 [text via codart.nl]