In autumn 2023, Dulwich Picture Gallery will present Rubens & Women, a major exhibition of the Flemish artist Peter Paul Rubens (1577–1640). Uniting a diverse range of paintings and drawings from throughout Rubens's career, the exhibition will be the first to challenge the popular assumption that the artist painted only one type of woman, providing instead a more nuanced view of the varied and important place occupied by women, both real and imagined, in his world.
Over 40 paintings and drawings along with archive material will reveal the essential ways in which Rubens's relationships with women nourished his creativity and career – from the role played by his female patrons and family members to his profound faith, artistic beliefs, and great loves. Featuring masterpieces from international and private collections, many of which will be appearing in the UK for the first time, this landmark exhibition will reconsider one of art history's most influential figures.
The exhibition will open with a striking series of portraits of elegant, elite and powerful women shown alongside intimate depictions of his two wives, Isabella Brant and Helena Fourment, and his eldest daughter, Clara Serena. Highlights will include Portrait of a Woman (ca.1625) from the Royal Collection Trust and one of Rubens's most lavish portraits Marchesa Maria Serra Pallavicino or Marchesa Veronica Spinola Doria (1606-7) from the National Trust.
Rubens had a unique ability to infuse images of biblical women with great tenderness and gravitas, reflecting his Roman Catholic faith. A key group of works, including the The Virgin in Adoration of the Child (ca. 1616) from Snijders&Rockox House, Antwerp, and Young Woman Looking Down (Study for head of St Apollonia) (1628), which is traveling to the UK for the first time from the Galleria degli Uffizi, Florence, will highlight the real women in his life, including his wives and children, who acted as models for religious commissions.
A further theme will follow the evolution of the female nude in Rubens's art. It will demonstrate how Rubens's early nudes were quite different in style from those he became famous for, tracing how he arrived at his preferred form through an engagement with sculpture, careful study of antique models and observation from life. Highlights will include Ceres and Two Nymphs (1615-17) from the Museo del Prado, Madrid.
The exhibition will underline how the women in Rubens's art were not simply passive objects to be observed, but active agents of their own destiny, and a powerful finale to the show will include large-scale paintings of heroic mythological women with highlights including The Birth of the Milky Way (1636 – 1638) from the Museo del Prado, Madrid, on display in the UK for the first time, Diana Returning from the Hunt (ca.1615) from Staatliche Kunstsammlungen Dresden and Dulwich Picture Gallery's Venus, Mars and Cupid (ca. 1614).
A captivating line-up of star works includes Rubens's Clara Serena Rubens, the Artist's Daughter (ca.1620-3), which will be on long-term loan to the Gallery from a private collection for an initial period of three years. The intimate portrait depicts Rubens's daughter shortly before she died in 1623, just before her thirteenth birthday, and is now on show at the Gallery. In a break from painting and to reveal Rubens's fascination with the classical world, the exhibition will also include Aphrodite or 'Crouching Venus' (200 AD), travelling from the British Museum where it is on long-term loan from The Royal Collection Trust.
The exhibition was conceived in close relationship with the Rubenshuis in Antwerp and is curated by Dr. Ben van Beneden (Former Director of the Rubenshuis and co-author of the Corpus Rubenianum Ludwig Burchard) and Dr Amy Orrock (Independent Art Historian).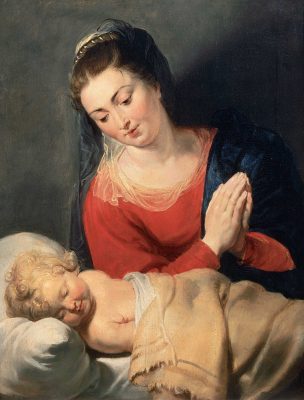 [text via Codart.nl]