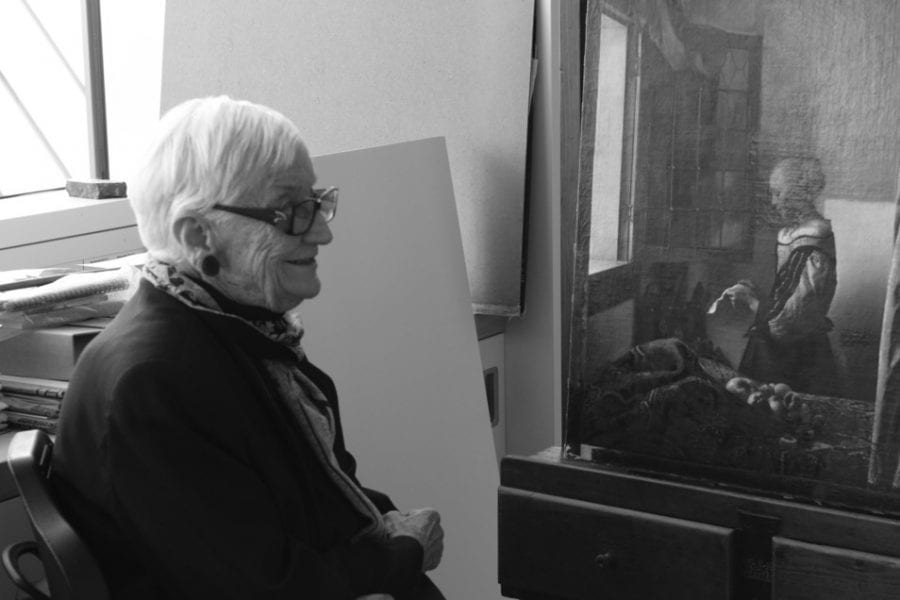 On April 23, 2020, Annaliese Mayer-Meintschel, longtime director of the Gemäldegalerie Alte Meister in Dresden, passed away at her home in Dresden-Loschwitz. Her actions, thoughts and feelings remained closely and profoundly connected to the Gemäldegalerie, her life's work, and to her colleagues up to the last weeks before her death.
After her study of art history in Halle/Saale, Annaliese started her professional career in 1952 as research assistant in the Gemäldegalerie in Schloss Pillnitz. In 1956 she witnessed the return of the main works of the Gemäldegalerie from the Soviet Union back to Dresden. The tasteful and balanced display of the works in the newly opened Semper building and the sensitive and at the same time complex mediation of these recovered treasures of world art to a public hungry for culture was and remained Annaliese's greatest concern.
From 1968 to 1991 Annaliese Mayer-Meintschel was director of the Gemäldegalerie Alte Meister – a demanding position which she executed with great success, often under special, sometimes difficult social conditions thanks to her extraordinary capabilities and talents. It was due to her distinguished research, especially concerning the Dresden collection of Netherlandish paintings, and her worldwide network of colleagues – including members of HNA – that the fame of the Dresden Gemäldegalerie once again spread beyond the borders of the German Democratic Republic. She succeeded in preserving the special character of the Gemäldegalerie Alte Meister and at the same time in opening it up to international research and to a large public from East and West.
Annaliese's specialization was the Gemäldegalerie's Dutch and Flemish paintings from the 15th to the 18th century. This provided the subject of her dissertation (1961) as well as numerous publications concerning the main works in the collection, from Jan van Eyck's Triptych with the Virgin and Child to Rembrandt's Self Portrait with Saskia and Vermeer's Procuress and Girl Reading a Letter. Her important exhibitions on European landscape painting (1972) and still-life painting (1983) set new art historical and curatorial standards; highly regarded exhibitions of works from Dresden in Tokyo, Kyoto, San Francisco, New York, and Washington, DC, but also Moscow, Leningrad, Stockholm, Mexico City and New Delhi, made her into an ambassador of Dresden to the world. With her approximately 100 publications, with lectures on the national and international stage and not least through her legendary gallery concerts which she especially loved by bringing together the arts, she succeeded to inspire as well as refine public taste.
With her keen, critical but also demanding intellect, Annaliese Mayer-Meintschel continued to persue, after her retirement, her own publications as well as support the works of her successors in or about the collection. Years after her official retirement from the Staatliche Kunstsammlungen Dresden her judgment carried weight; new insights and research results ­– upon her demand – were presented to her on a regular basis. We will miss the stimulating, quick-witted, subtly humorous dialogue with her, one of the last, great witnesses of art and culture in Dresden in the second half of the twentieth century.
Annaliese's longtime membership in HNA might not have been as spectacular as her directorship of one of the great collections in the world, but she was very grateful for the organization and its dissemination of news and international connections and took her responsibilities within it very seriously.
Uta Neidhardt
Gemäldegalerie Alte Meister, Dresden
Translated by Kristin Belkin