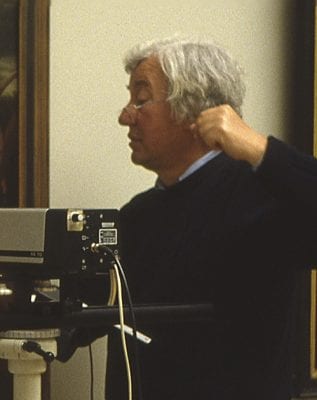 Johan Rudolph Justus van Asperen de Boer's career and scientific contributions span several academic fields. It was as a physicist and conservation scientist that he developed the technique of infrared reflectography (IRR), a technique well-known to HNA members for its ability to reveal underdrawings and a painter's working methods and an investigative tool that has become standard in museums worldwide. Our discipline today is unthinkable without IRR.
Van Asperen de Boer, or Dolf, for Rudolph, as he was known to his closest friends, pursued doctoral studies at the University of Amsterdam in experimental physics. For his minor in the history of science, he was able to arrange a three-month internship in 1961 at the KIK/IRPA in Brussels with Paul Coremans, where he became acquainted with the photographic and technical documentation of 'Flemish Primitives' and, as he recalled in a later interview, was fortunate enough to participate in a routine checkup of the Ghent Altarpiece. Military service followed, and as van Asperen de Boer repeatedly stated in interviews and in his own publications, he became determined to use his scientific endeavors for peaceful purposes. It was with his knowledge of the infrared surveillance devices he had encountered in the military that he was hired in 1963 by the Central Research Laboratory for Works of Art and Science in Amsterdam, with the explicit purpose of developing an instrument that would improve on the results of infrared photography. He obtained his first surprisingly successful images using a modified Barnes T-4 thermograph in May, 1965, and published the method for the first time in Studies in Conservation, 1966; he further described the theoretical underpinnings of the technique in his 1970 dissertation for the University of Amsterdam.
It was in 1967 that I first met van Asperen de Boer, through an introduction by Joos Bruyn. I saw for the first time ever a reflectogram, the electronic registration of an underdrawing, in this case, of Jan van Scorel's Mary Magdalene in the Rijksmuseum; and as was typical of him, he generously allowed me to use this new form of art-historical and technical document for a seminar report on Netherlandish drawings with J.Q. van Regteren Altena. During these years when the technique of IRR was being refined, van Asperen de Boer also worked with Arthur Wheelock and Jan Piet Filedt Kok, giving hours of his time documenting paintings with them and making IRR assemblies. Intense collaborative periods of documentation provided the three of us with the material for the first pioneering studies using IRR results in art historical research: Arthur on Cornelis Engebrechtsz (1973); Jan Piet on Lucas van Leyden (1978), and myself on Jan van Scorel (1975). Van Asperen de Boer was interested in working with art historians who were willing to participate in the examinations, to familiarize themselves with the process by which the documents were created and evaluated, and to recognize the potential as well as the limitations in their application. In this he followed Paul Coremans' ideal of interdisciplinary research involving the 'interpenetration,' in Coremans' words, of the fields of science, conservation, and art history. The fact that we now have today a discipline called technical art history indicates that in some respects this has happened.
Van Asperen de Boer's appointment at the University of Groningen in 1976 meant that, in effect, technical study became an academic subject. Henk van Os was instrumental in bringing him to Groningen, and their immediate collaboration resulted in a groundbreaking series of publications that initiated technical investigations of early Sienese and Venetian painting. By this time, van Asperen de Boer had purchased his own IRR equipment which utilized an infrared vidicon, allowing him to carry out fieldwork and establish a minor in art history entitled 'materieel-technisch onderzoek,' a term that is not easily translatable but entails the physical examination of art objects. The course was open to advanced students at all Dutch universities and was taught as a tutorial. Over a period of months, van Asperen de Boer and a student would return time and again to a museum to study a painting in a methodological sequence, beginning with visual and UV inspections and measurements, followed by observations with the binocular microscope and progressing to IRR and X-radiography, when available, and paint samples, when possible and appropriate. He set up a laboratory in his home, and students would visit to learn to cut and polish cross-sections. Van Asperen de Boer stressed the evolving nature of the interpretation, and I encouraged this in my own teaching, noticing how a student or colleague developed a unique appreciation for the art object as they acquired and took responsibility for the new information they themselves were helping create. The minor in technical examination had an outsized impact on art history in the Netherlands. Many of the former students who contributed to the Album Discipulorum written in honor of van Asperen de Boer's retirement in 1997 had become distinguished art historians in their own right. At Groningen, van Asperen de Boer rose to the rank of professor in 1987, with a chair in the technical examination of works of art. In 1997, he received an honorary doctorate from the Université catholique de Louvain, Louvain-la-Neuve.
Most of van Asperen de Boer's art historical publications focus on Early Netherlandish Painting (a CV up to 1997 is available in the Album Discipulorum). Perhaps the best-known are the 'Scientific Re-examination of the Ghent Altarpiece' and the extensive survey of works attributed to the Master of Flémalle and Rogier van der Weyden (the latter involving 30,000 reflectograms, according to van Asperen de Boer, and for which he received the Prix Roger de le Pasture in 1991), although he frequently published on other works by Jan van Eyck, Dirk Bouts, and Petrus Christus. It is telling that so much of van Asperen de Boer's research led to further projects; the examination results from the Groningen minor found their way into museum catalogues published by the Boijmans van Beuningen Museum, the Centraal Museum, and the Rijksmuseum, where the Early Netherlandish catalogue is online. What could be called van Asperen de Boer's 'pilot studies' on copies in Early Netherlandish Painting, illuminated manuscripts, Geertgen tot Sint Jans, Pieter Saenredam and even Piet Mondriaan expanded into exhibitions and additional publications. Concurrently, van Asperen de Boer published on a variety of other topics: the preparation of cross-sections, the technical examination of polychromed sculpture, humidity in walls, and a series on porous building materials (with T. Stambolov). Over the years he reported constantly on developments in infrared imaging; he evaluated the potential of new materials such as indium gallium arsenide, and in the context of a NWO priority program, MolArt (Molecular Aspects of Aging in Art) from 1995–2001, developed a PtSi thermal imaging device, one of the recent instruments that allows reflectograms to be 'born digital.'
Although it may not be widely known, HNA played a part in securing IRR research. At the time of the HNA meeting in Cleveland in 1989, I was asked by colleagues as well as by some members of the Cleveland Museum of Art's conservation department how the infrared documents would be preserved and made accessible. I brought this up with van Asperen de Boer,  and he and I entered into discussions with Rudi Ekkart, then director of the RKD, with the result that our research materials, IRR negatives, infrared reflectogram assemblies and digital composites, scanning notes and reports, student papers and other related documents, are now housed at the RKD. They can be searched via the RKD's website and are listed under the relevant painting.
Van Asperen de Boer was an exceptionally gifted speaker and diplomatic promoter of his interests. He fulfilled many functions for ICOM (International Council of Museums) and IIC (International Institute for Conservation of Historic and Artistic Works), and was a participant at many art history conferences worldwide, where he would occasionally stay an extra day or take some time off to collect bumblebees, for he was a serious amateur entomologist and published several new species. Those who worked with van Asperen de Boer know that after an exhausting study session in a museum or church, there was always time for convivial food and drink. Once when I worked with him in Philadelphia, there was Jan van Eyck in the afternoon, and in the evening, a baseball game and a beer. For me, Dolf was a dear friend and longtime colleague, and I feel privileged to have worked with someone of absolute intellectual integrity and to have been able to join him in a pursuit that changed our perception of paintings.
Van Asperen de Boer passed away in Amsterdam, July 25, after an unexpected and brief illness. The contributions of this generous and inventive scholar to so many of us in the various cultural and intellectual spheres of art history, museum work, conservation and conservation science are myriad and ongoing.
Molly Faries (ret.)
Indiana University/Bloomington and University of Groningen