M Leuven announced the acquisition of a unique fifteenth-century drawing from the circle of Rogier van der Weyden. The Swooning of the Blessed Virgin and two Marys (ca. 1458-1469) was previously on long-term loan to M from 2011 to 2017. It is the first time that M has been able to add a fifteenth-century drawing to its Prints and Drawings Cabinet, a sub-collection that contains over 22,000 works. The drawing will be shown in the museum's new collection presentation in 2024.
The drawing, made with brush, brown ink and charcoal, depicts the swooning of the Blessed Virgin. She is supported by John and the two Marys complete the scene. The same motif is found in Rogier van der Weyden's Triptych of the Seven Sacraments, part of the KMSKA collection and on loan to M between 2009 and 2022. The poses of the pensive Virgin and John, the facial expressions and the draped garments are rendered in an almost identical fashion.
Only about 600 fifteenth-century drawings from the Southern Netherlands are known worldwide. Most of these are in foreign museum collections. In Flemish – and by extension Belgian – museum collections, the number of drawings from this period and of this quality can be counted on one hand. The Leuven museum already owns a fifteenth-century incunabulum, four prints and two manuscripts, but this is the first drawing from this period. Rogier van der Weyden was born in Tournai but worked in Leuven. A drawing from his circle is therefore a particularly valuable addition to the city's museum collection, which is managed by M.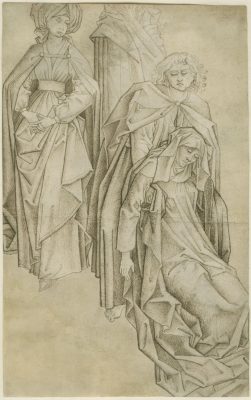 [text via Codart.nl]