Obituary: (20 February 1939 – 12 December 2008)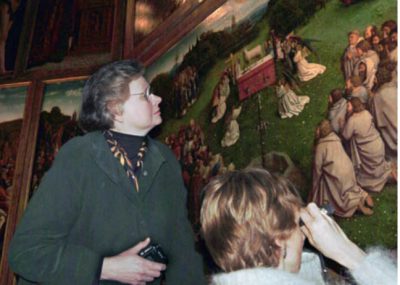 Dr. Carol Purtle, the driving spirit behind the creation of the Historians of Netherlandish Art, died of cancer in Memphis. Many of us affectionately called her the mother of HNA because without her initiatives in 1982 and 1983 our society might never have been founded. On 22-24 April 1982, Carol convened a symposium, 600 Years of Netherlandish Art, at Memphis State University (now the University of Memphis) in conjunction with the Netherlands-American Bicentennial and Memphis's May International Festival, which that year highlighted the Netherlands. Thirty-four scholars spoke and five essays were published in the accompanying proceedings. At this time North American scholars working on Netherlandish art had little sense of community. Discussions in Memphis and then a year later at the CAA meeting in Philadelphia resulted in the establishment of the HNA. Carol was the founding president (1983-85) and an active board member (1985-94). In 1985 she authored a successful National Endowment for the Humanities' Research Conference grant on behalf of the HNA. Carol remained a steadfast presence and an invaluable component of the HNA's institutional memory in the quarter century since Memphis and Philadelphia. Carol and the other past presidents of the HNA were acknowledged gratefully at the CAA meeting in Dallas in 2008.
Carol earned her B.A. at Maryville University in St. Louis and her M.A. in English literature at Manhattanville College in Purchase (NY) before returning to St. Louis to complete her Ph.D. in art history at Washington University in 1976. For thirty-two years Carol was a nun of the Religious of the Sacred Heart, a vocation that deeply informed her scholarship. In 1977 Carol joined the faculty of Memphis State University where she directed the art history program until her retirement in spring 2008. Her university honored her with its Alumni Association University Award for Distinguished Research in the Humanities in 2001 and with her appointment as the Benjamin W. Rawlins Jr. Meritorious Professorship in 2005. As a visiting scholar Carol taught at Washington University, Indiana University, and the International Marian Institute at the University of Dayton.
Encouraged by Norris K. Smith, her advisor, and funded by the Belgian-American Foundation, Carol traveled to Brussels in 1974-75 to research her dissertation – The Marian Paintings of Jan van Eyck. Thus began her career-long fascination with this magical Netherlandish master and with the Marian theology at the heart of his oeuvre. The revised text, published in 1982 by Princeton University Press, transformed our understanding of Van Eyck's iconographic sources and the devotional intent of his pictures of the Virgin and Child. Although Millard Meiss, Erwin Panofsky, and Lotte Brand Philip, among others, drew attention to Van Eyck's use of hymns, Carol thoroughly grounded the artist and his paintings in the rich theological stew of the first half of the fifteenth century. She lucidly explained how Van Eyck's diverse depictions of Mary accorded with the many roles (such as mother, bride, Ecclesia, queen of heaven, etc.) she played in the Catholic Church. Perhaps influenced by her own background, Carol considered the range of possible responses to Van Eyck's paintings by the "thoughtful viewer." One of the early critics of the concept of hidden or disguised symbolism, she stressed the multilevel significance of the realistically portrayed details of his pictures.
Most of Carol's many publications and lectures focused on Van Eyck. Over time her interests increasingly shifted to his painting technique and the possible models for his art. Drawing upon the National Gallery of Art's cleaning of Van Eyck's Annunciation in a Church in 1992- 93, Carol observed that the artist's composition and its iconography evolved during the course of its production rather than being meticulously planned in advance. Working independently yet collaboratively, Carol and Melanie Gifford, conservator at the National Gallery of Art, published their findings in adjoining articles in The Art Bulletin (March 1999) and in Investigating Jan van Eyck (ed. Susan Foister et alia [Turnhout, 2000]). More recently, Carol wrote about Van Eyck's Madonna in a Church (2003), the Thyssen Annunciation (2006), and St. Barbara (2008). Aided by awards from the University of Memphis, the Royal Flemish Academy for Science and the Arts, and Ghent University, Carol worked diligently on a new book entitled "Looking at Jan van Eyck." She completed the text before her death, and the manuscript is currently under consideration for publication.
Carol's scholarship extended to the other early Netherlandish masters, including the Limbourg brothers, Robert Campin, and Rogier van der Weyden. In 1996 she organized a session on Van der Weyden's St. Luke Painting the Virgin at the CAA meeting in Boston. Carol edited the resulting volume entitled Rogier van der Weyden – St. Luke Drawing the Virgin: Selected Essays in Context (Turnhout, 1997).
Shortly after Carol's death, Marc de Mey and Molly Faries sent me Patrick Seurinck's wonderful photograph of Carol and Melanie Gifford eye-to-eye with the Ghent Altarpiece. (See the illustration.) I can think of no more fitting visual epitaph. Standing with impeccable erect bearing, as always, Carol focuses her attention on the Mystic Lamb and the surrounding worshippers. Although we cannot reconstruct her thoughts, we can be assured, however, that Carol is fully in her element. I cannot think of many things that my friend and our colleague, Carol Purtle, would rather do than commune intimately with Van Eyck and his art.
Carol is survived by her best friend and partner Belinda Patterson.
Jeffrey Chipps Smith
University of Texas at Austin