Obituary: Christian Ludwig Tümpel (31 March 1937 – 9 September 2009)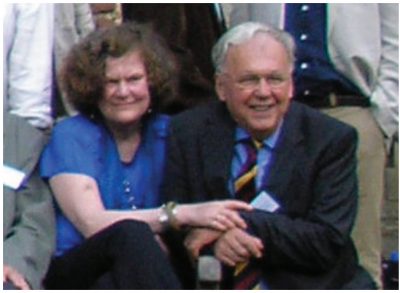 Christian Ludwig Tümpel, who died unexpectedly September 9, 2009 in Bad Kissingen, was foremost among those scholars who shaped Rembrandt studies in recent years. After studying theology and philosophy, he turned to art history. In 1964 he wrote a master's thesis on French architecture, but it was his participation in a seminar on Rembrandt shortly thereafter that determined the course of his studies from then on. In his PhD thesis, Tümpel related sixteenthcentury prints to Rembrandt's imagery, thereby identifying hitherto puzzling subjects. Portions of his dissertation Studien zur Ikonografi e der Historien Rembrandts, Hamburg 1968, were published in three articles between 1968 and 1971, in the Jahrbuch der Hamburger Kunstsammlungen and Nederlands Kunsthistorisch Jaarboek. His novel approach invigorated Rembrandt studies to come. Tümpel himself continued to pursue the study of Rembrandt iconography in countless publications, culminating in his large Rembrandt book of 1986, on which he collaborated with his wife Astrid Tümpel (Rembrandt. Mythos und Methode; published in English by Fonds Mercator and Abrams under the title: Rembrandt. Images and Metaphors; a revised edition came out in November 2008, by Haus Publishing, London).
Scholars immediately recognized the value of Tümpel's interpretation of Rembrandt's imagery. As early as 1969, Jan Bialostocki summarized the latter's dissertation at the symposium in Chicago (October 1969) in his own presentation "Rembrandt's Iconography." Bialostocki, already having written his paper for the symposium, then rewrote it for his presentation in Chicago, following an exchange with Christian who was not present at the conference (see D.C. Stam, ed., Rembrandt After Three Hundred Years: A Symposium, Chicago, 1973, pp. 68 ff.; and communication with Christian Tümpel. See further Jan Białostocki, "A New Look at Rembrandt Iconography," Artibus et Historiae, vol. 5, no. 10 (1984), pp. 9-19). In 1971 Christian was honored by the Royal Netherlands Academy of Arts and Sciences. In the same year he was invited by Julius Held to teach at Columbia University with the intention that he would replace Julius upon his retirement, but he declined the offer. Instead, after taking his second theological examination, he served as a Lutheran minister in Hamburg for ten years.
It was not until 1984 that Christian turned to art history as a full-time academic occupation. He taught at the University of Nijmegen, now Radboud University, first as a university teacher, later as professor. After his retirement in 2002 he and Astrid returned to Germany, settling in Ahrensburg (near Hamburg). Here Christian founded the Kunstforum Schlosskirche Ahrensburg, an organization sponsoring art and cultural lectures and events. Many of Christian Tümpel's publications were written with his wife Astrid, whose own publications on Claes Cornelis Moeyaert and Pieter Lastman are well known. The two collaborated on a book on Pieter Lastman (in preparation). In several of Christian's publications, he presented the principle of Herauslösung, the isolation of a figure or group of figures from a larger context; as the attributes were included in the larger context but omitted in the final composition, this process involved the loss or simplification of recognizable signs. This provided a fruitful approach to identifying a number of Rembrandt compositions that had long puzzled scholars. He thus proposed that the Woman in Bed (Edinburgh, National Gallery of Scotland) represented Sarah awaiting Tobias, by analogy with the painting by Lastman, The Wedding Night of Tobias and Sarah (Boston, Museum of Fine Arts). He identified the figures in the Jewish Bride (Amsterdam, Rijksmuseum) as Isaac and Rebecca by first relating the painting to a Rembrandt drawing that portrays the couple being watched from a window by Abimelech (New York, Kramarsky Collection) and then to several prints that clearly depict Isaac, Rebecca and Abimelech.
Given his theological training and interests, Tümpel was especially keen on examining how artists approached denominational concerns. He concluded that practical aspects of art making were not determined by denominational matters, but rather, by textual and visual prompts. Livy, the Bible, and Josephus were among the texts he analyzed for use by seventeenth-century Dutch artists, and the range of sixteenth-century print production provided corollary pictorial models. At the time of his death, plans were under way for another book on Rembrandt of his previously unpublished material. A convenient and extensive reference for most of Christian Tümpel's publications is the recent biography in Wikipedia, entered September 17, 2009. An addition to that list is the exhibition catalogue The Pre-Rembrandtists, E.B. Crocker Art Gallery, Sacramento, 1974, which he co-authored with Astrid Tümpel. This publication was instrumental in introducing the term "Pre-Rembrandtists" to designate and define the generation of Amsterdam artists concerned with narrative, and, in a general way, anticipating Rembrandt. In June 2009, Queen's University hosted a Rembrandt conference at the International Study Centre, Herstmonceux Castle, East Sussex. Christian and Astrid were among the  participants. Their warmth and generosity contributed much to the congenial atmosphere and productive scholarly exchange of this conference.
We were very much looking forward to future such exchanges, and, in particular, Christian's workshop on Pieter Lastman, scheduled for the Historians of Netherlandish Art conference in Amsterdam, May 2010, to be held at the Rembrandthuis. The workshop will be held by one of our colleagues yet to be determined in memory of Christian Tümpel. All these endeavors – the planned books on Rembrandt and Lastman (in collaboration with Astrid Tümpel), the meeting in Herstmonceux, the HNA workshop, as well as the organization of educational events in Ahrensburg – show how actively engaged Christian was right up to his death: in the preparation of scholarly publications, the participation in conferences and even the cultural life of his chosen home town. He will be much missed as a valued friend, scholar, and colleague.
Amy Golahny
Lycoming College