Obituary: Walter A. Liedtke (1945 – 2015)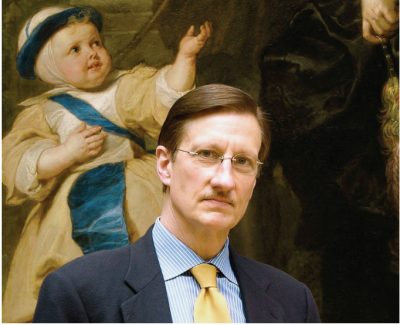 Walter A. Liedtke, Curator of Dutch and Flemish Paintings at the Metropolitan Museum of Art, died on February 3, 2015, in Valhalla, New York, in the crash of a commuter train en route from New York City. He was 69. Walter took the Metro North train nearly every day to and from his home in Bedford Hills in Westchester County, where he lived with his wife, Nancy, a math teacher, artist, and equestrienne. In their tidy cottage, surrounded by paintings, prints, and exquisite Chinese porcelain, Walter wrote many of the publications that made him a leading authority in the fi eld of Dutch and Flemish art. Yet he was equally at home outdoors, sharing with Nancy a passion for horses, dogs, and country life. A neighbor recalled that one snowy morning shortly before his death, Walter had risen early to plow the neighbor's driveway with his pickup truck before heading off to work at the Met. Those of us who remember Walter as an urbane scholar and fellow historian of Netherlandish art should also be reminded that his was a well-rounded life, enriched by love, friendship, and wit as well as the joys of professional achievement and intellectual curiosity. There are many people besides us for whom Walter's absence will be keenly felt, but our hearts go out especially to Nancy, who became his partner in all things more than forty years ago.
Walter Liedtke was born on August 28, 1945, in Newark and grew up in Livingston, New Jersey, spending summers on Block Island. He discovered art history as a student at Rutgers University (BA 1967) and went on to receive his MA from Brown University in Providence, RI (1969) and his PhD from the Courtauld Institute of Art at the University of London (1974). His dissertation research led to the book Architectural Painting in Delft: Gerard Houckgeest, Hendrick van Vliet, Emanuel de Witte (1982). He was building an academic career at Ohio State University when a Mellon Postdoctoral Fellowship in 1979 placed him in the Met's Department of European Paintings under the supervision of Sir John Pope Hennessy. He joined the museum staff permanently in 1980 and served the Met as Curator of Northern European Painting for thirty-five years. For his efforts as a distinguished scholar and promoter of Netherlandish art, Walter was named a Knight in the Order of Leopold by King Albert II of Belgium in 1993 and Officer in the Order of Orange-Nassau by Queen Beatrix of the Netherlands in 2007.
While accepting the practical challenges of museum work, Walter remained an influential and prolific scholar, authoring over a hundred articles, books, and exhibition catalogues. He organized a sequence of exhibitions including Vermeer and the Delft School (2001), Liechtenstein: The Princely Collections (1985), Rembrandt/Not Rembrandt in the Metropolitan Museum of Art (1995), and Vermeer: The Milkmaid (2009). Among his books are The Royal Horse and Rider: Painting, Sculpture and Horsemanship 1500-1800 (1989), A View of Delft: Vermeer and his Contemporaries (2000) and Vermeer: The Complete Paintings (2008), but perhaps his most monumental scholarly contributions are the meticulously researched catalogues of the collections in his care: Flemish Paintings in the Metropolitan Museum of Art (1984) and Dutch Paintings in the Metropolitan Museum of Art (2007). Far from the dry rehearsal of facts such catalogues can be, these volumes are packed with the original insights and strong opinions that were the hallmark of Walter's scholarship. In 2007, the Dutch catalogue was celebrated with an exhibition in which all of the Met's Dutch paintings were placed on view. The show drew over half a million visitors and revealed the depth and breadth of a collection that testifies both to American collectors' long fascination with Dutch art (a substantial component of the Met's earliest holdings) and to the range of judicious acquisitions achieved during Walter's tenure as curator.
In interviews about the Met's Dutch paintings, Walter acknowledged as personal favorites Vermeer's Young Woman with a Water Pitcher and Rembrandt's Aristotle with the Bust of Homer. His thoughts on the latter, which he called "one of the central monuments of Western culture," are recorded in a short video filmed by the Met in 2013. One of his recent projects was a re-installation of the Dutch galleries in which paintings and material objects are juxtaposed, and familiar works converse in new ways. At the time of his death, he was engaged in a new endeavor: a scholarly catalogue of the Met's Spanish paintings. His last exhibition was El Greco in New York (2014). Fortunately, Walter's notes remain as source material for whoever takes up the Spanish catalogue, but the sharp connoisseurial judgment for which he was widely admired is irreplaceably lost.
Walter remained committed to education, lecturing widely, teaching occasional courses for the Institute of Fine Arts (New York University) and, most importantly, mentoring generations of interns and fellows at the Met. The acknowledgments in the Dutch catalogue reflect his own gratitude for consultation with senior colleagues and his avuncular affection for the many younger scholars who were privileged to assist with his research. Walter observes that the names of the "research fellows, graduate interns, and curatorial assistants … mentioned in the entries and … fondly remembered here … are already familiar or will soon become known to historians of Dutch art" (p. xvi) and, indeed, many of those whose small discoveries are generously credited in his notes are now established professors and museum professionals. By advice and by example, Walter taught us to look closely, to write with spirit and precision, and, most of all, to think independently. What we continue to make of that gift (and how we pass it on) will be an enduring component of his legacy.
Walter Liedtke was a founding member of HNA and remained a supporter throughout his career. In fact, the current issue of the HNA Review of Books includes his review of the catalogue of the Hohenbuchau Collection (Vienna) and the related exhibition that closes April 15 at the Bruce Museum in Greenwich, CT, before moving to Cincinnati. (The review was posted on our website in January.) Walter was named an honorary member in memoriam at our annual meeting in February. In 2016, a volume of JHNA will be published in his honor.
The Metropolitan Museum has also gathered a number of obituaries and tributes on its website. A memorial will be held at the Met, in the Temple of Dendur space, on Tuesday, April 21, 2015, at 10:00 AM (entrance beginning at 9:30). HNA members are welcome.
Stephanie Dickey
Bader Chair in Northern Baroque Art
Queen's University