The National Gallery of Art in Washington DC announced details regarding the Vermeer exhibition opening this autumn. Vermeer's Secrets will show how National Gallery curators, conservators, and scientists investigated the museum's four treasured paintings by and attributed to Vermeer—as well as two twentieth-century forgeries—to understand "what makes a Vermeer a Vermeer."
There are around 35 known paintings by Vermeer in the world. The National Gallery researchers took advantage of the museum's COVID-related closures in 2020 and 2021 to examine the paintings, which are rarely taken off view. As the research team examined and compared the museum's four works, one of their goals was to evaluate whether one of them—Girl with a Flute (probably 1665/1675), whose authorship has been long debated—is in fact by Vermeer. Exact findings of the team's studies will be announced ahead of the exhibition's opening.
The images taken during the examination allowed the research team to analyze the distribution of pigments across the paintings, distinguish compositional changes, and in the case of the Girl with the Red Hat, reveal an earlier unfinished bust-length portrait of a man with a wide-brimmed hat.
In 2021, the team already shared preliminary findings that enhance our understanding of Vermeer's process. Chemical imaging visualized layers beneath the surface of Woman Holding a Balance (ca. 1664), revealing quick, spontaneous, sometimes textured brushstrokes in the underlayers—radically different from the precise finished composition, where individual brushstrokes are barely perceptible. This discovery brings into question the common assumption that the artist was a painstakingly slow perfectionist.
Vermeer's Secrets is curated by Betsy Wieseman and Alexandra Libby. It will be on view at the National Gallery of Art from 8 October 2022 through 8 January 2023. This will be the final opportunity for visitors to experience the National Gallery's paintings by Vermeer in Washington before the works travel to Amsterdam for inclusion in the Vermeer exhibition at the Rijksmuseum (10 February – 4 June 2023).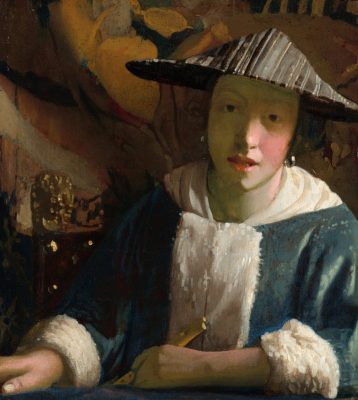 [text via Codart.nl]