The baroque interior of the Keizerskapel is home to a temporary presentation of an 'imaginary'  baroque church interior by Anthonie de Lorme.
De Lorme was born in Tournai (ca. 1600/1610) and died in Rotterdam in 1673. His parents were married in Antwerp and moved to Rotterdam in 1612 (were Anthonie married in 1647). The earliest document mentioning Anthonie de Lorme dates from 11 October 1627, a deed he witnessed for the painter Jan van der Vucht (Rotterdam, 1603-1637). An old index by Jan Sysmus from Amsterdam  (his 'Schildersregister') states that Anthonie was a pupil of van der Vucht.  Although a 'master-pupil' relationship seems rather unlikely because they have about the same age. Both were pupils of Bartholomeus van Bassen (ca. 1590-1652) what certainly explains the similarities between their works.
The artist mainly painted imaginary church interiors to which he eventually added architectural elements borrowed from existing buildings. On the other hand his interiors of  the Church of Saint Lawrence (Sint-Laurentiuskerk) in Rotterdam, some in collaboration with Ludolf de Jongh (1616-1679), are of the greatest importance: the Saint Lawrence church was ruined during World War II in 1940. Anthonie also collaborated with Anthonie Palamedesz (1602-1673) and with Ludolf de Jongh, with whom he painted an Interior of Saint Lawrence church in 1662. It seems he also worked together with Jan Tengnaegel (1584-1635). In his earliest paintings the influence of van Bassen remains obvious. Afterwards he gets closer to the style of van der Vucht. The presented panel (45 x 64 cm) is signed on a pillar. Several of Anthonie's paintings indeed are signed and eventually dated. This picture represents several tombstones with identifiable coats of arms. Tombstones and sarcophagi appear regularly in his oeuvre.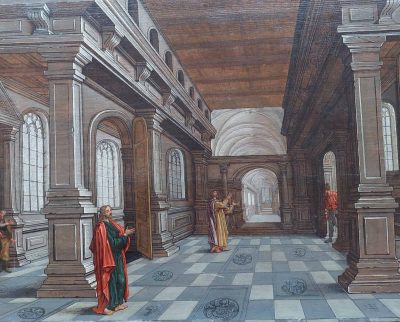 [text via codart.nl]