A painting by Rembrandt that decorated the wall of a small church in southern France for two centuries virtually unprotected is now "100% theft-proof," Dutch broadcaster NOS reported. The work, Christ on the Cross, was attributed to Rembrandt in 1959 when the initials RHL (Rembrandt Harmenszoon Rembrandt) and the date, 1631, were discovered.
The painting was originally purchased by a French army officer in 1804, who donated it to the church in his native village of Le Mas d'Agenais, southeast of Bordeaux. There it remained on display for 200 years, without any modern security measures.
In 2016, the painting was moved to the vaults of the Bordeaux Cathedral for security reasons and to build an appropriate enclosure. The painting returned to the church last May after a six-year absence and is now housed in a modern, ventilated casing protected by an alarm system.
Although the Rembrandt was not known to the general public, the painting was very well known among connoisseurs. According to CODART member David de Witt, curator at the Rembrandthuis in Amsterdam, it was the only Rembrandt not in a museum or owned by a private collector. Christ on the Cross was included in the 1991 exhibition Rembrandt & Lievens in Leiden (Museum De Lakenhal, Leiden) and more recently in the Louvre's Rembrandt and the face of Jesus (2011).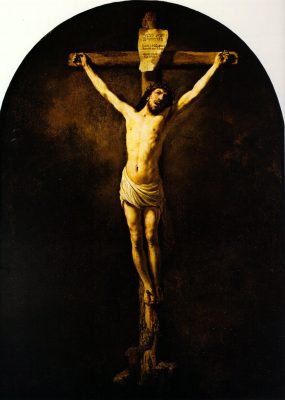 [text via Codart.nl]