The exhibition has been rescheduled to run from 26 March until 4 July 2021. Check the museum website for updated opening times.
Mechelen was not only an important political and cultural hub for Burgundian and early Habsburg rulers, it was a center of education too. Three successive generations of Habsburg princes and princesses spent part of their childhood there. When Philip the Fair died in 1506 and his wife, Joanna of Castile, was pronounced mad, four of the couple's children – Eleanor (of Austria), Charles (V), Mary (of Hungary) and Isabella (of Austria) – were sent to Mechelen to be raised by their aunt, Margaret of Austria, regent of the Habsburg Netherlands. When Isabella of Austria died in 1526, her three children with King Christian II of Denmark – John, Dorothy and Christine – were also taken to Mechelen. Margaret of Austria herself, together with her brother Philip the Fair, had spent part of her youth in the city too, at the court of Margaret of York. The regent's court enjoyed such an excellent educational reputation that great families from all over Europe sent their children there, the best known of whom was Anne Boleyn. The future queen of England came to Mechelen in 1513, where she learned amongst other things to dance and to speak French.
The presence of the Habsburg princes and princesses in Mechelen provided an important artistic stimulus too. A series of little-known children's portraits by some of the leading painters of the time, including Jan Gossart, Juan de Flandes, the Master of the Mechelen Guild of St George, Pieter van Coninxloo and Bernard van Orley, is especially important in art-historical terms. They are amongst the earliest yet also most affecting portraits of children in Western painting. The works were used in marriage negotiations, given to relatives and allies as gifts, or kept as mementos.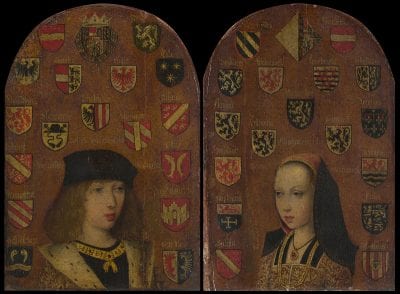 The exhibition aims to present a selection of Habsburg children's portraits in the city that played a key part in their creation and to tell the historical, pedagogical and artistic story behind them. They were painted in a period when a great deal was being written on the subject of children's education. The ideas expressed by humanists like Desiderius Erasmus and Juan Luis Vives continue to influence the way we raise children today and several of these pedagogical treatises originated in the vicinity of the Habsburg court.
The exhibition Renaissance Children will use artworks, books, prints, letters, jewelry and everyday items to present a unique insight into the education, emotions and identity of children during the transition from the Middle Ages to the early modern era. It will also focus on one of the most important royal houses in European history at a crucial moment in its development. The exceptional artistic value of the Habsburg children's portraits makes them as revealing and relevant today as the pedagogical treatises of Erasmus and Juan Luis Vives.
[text via codart.nl]