On 24 September, the Royal Museum of Fine Arts Antwerp (KMSKA) opened its doors again to the public after 11 years of construction and renovation.
While the historic building was being renovated, a new white volume was fitted into four historic courtyards to create 40% additional exhibition space. The expansion is invisible from the outside and takes visitors completely by surprise. The new rooms mainly house modern art while the Old Masters are on display in the historic building. Not only the interior of the museum has  undergone a metamorphosis. The façade also has been restored – including a new mosaic at the entrance – and a museum garden was created.
With 8,400 pieces, the KMSKA's collection is the largest in Flanders. During the closure, the art collection of the KMSKA was kept in both an internal and an external depot. The external depot allowed around 4,000 works of art to travel around the world while the in-house conservation studio restored just over 130 paintings and sculptures. Around 650 works will be on display in a new thematic arrangement, including outstanding paintings by Jan Van Eyck, Anthony Van Dyck, Peter Paul Rubens, Hans Memling and Jacob Jordaens.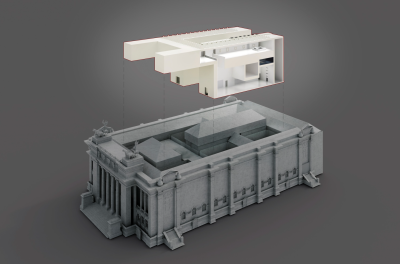 [text adapted from codart.nl]