Presentation: 22 September 2022 – 26 February 2023
Hendrick ter Brugghen (1588–1629) is one of the most important 'Utrecht Caravaggists.' These Dutch painters developed a style inspired by the dramatic, lifelike and popular depictions of the famous Italian Michelangelo Merisi da Caravaggio during their stay in Rome in the first quarter of the seventeenth century. Ter Brugghen's half-length figure of a drunken reveler was painted in 1627, at the height of his career. It holds special significance, as it is the only work in the collection by the artist. The painting was severely damaged by time and had been painted over in the past. It has been restored and thoroughly examined with the help of the Ernst von Siemens Kunststiftung. Changes in motifs made by ter Brugghen himself are once again clearly recognisable. The focused presentation of this work, juxtaposed with the works of his Utrecht colleague, Gerhard van Honthorst, demonstrates the artistic quality of this outstanding painter.
This presentation is part of the All Eyes On series. The series highlights a work or group of works, a significant artist personality or artistic position, guest appearances by individual loans, important restorations, or new acquisitions in the midst of the gallery. The artistic as well as technical qualities of the paintings, their content and significance, their history of creation and impact, and their creators are illuminated in the context of the collection. This opens up new, current perspectives and diverse insights into the research work at the Bayerische Staatsgemäldesammlungen.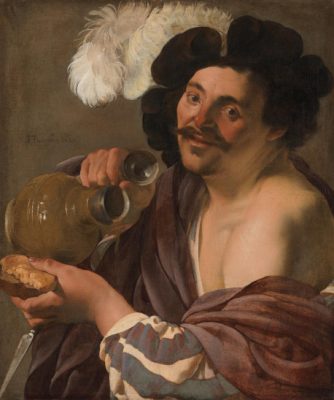 [text via Codart.nl, from the museum website]