Late 2019, a seventeenth-century painting titled "Paysage fluvial hollandais avec un château" (Dutch river landscape with castle) came on the market in France. The work is signed by the Amsterdam painter Jacobus Storck (1641 – ca. 1688), who is known for his works depicting famous buildings, rivers and ships. Earlier sources described the painting as a view of Amsterdam or Düsseldorf.
The painting was purchased by Stedelijk Museum Breda because prints from the same period depicting the Castle of Breda show such similarities to the painting. Now the museum has evidence to confirm that the painting is indeed a view of Breda.
For an optimal panoramic effect, Storck painted the river extra wide, out of sight. But the tower of the Grote Kerk (Great Church) with its double-floored square base, an octagonal floor and the spire with a sphere above it are recognizably depicted. Storck also incorporated the typical small covered tower in the middle of the church into his composition, as well as the fortress wall with the Dove Tower and Grenade Tower.
During the research, six other versions of the same painting by Jacobus Storck were located of which one is now in the Wallace Collection. Together with the Wallace Collection, further research was carried out to identify the differences between the paintings. View of Breda is now restored and on view at the Stedelijk Museum Breda until 13 November 2022.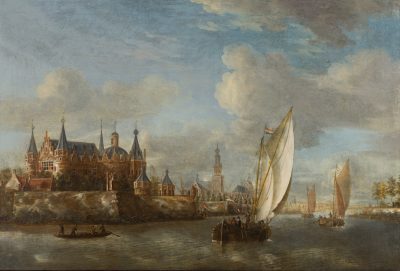 [Text via Codart.nl]