UPDATE: The event has been rescheduled for Dec. 10 and 11, 2020, and registration is re-opened.  See the updated information on the program's website.
For 17th April 2020, the 385th anniversary of the Joyous Entry of Cardinal-Infant Ferdinand of Spain into Antwerp, which had taken place on this day in 1635, this conference had originally been planned. Unfortunately, in our current times, neither festivals nor conferences about festivals are possible as an in-person event. We have decided to later celebrate these ephemeral, spectacular, and artistically ingenious events – which in 1635 had been designed by Peter Paul Rubens – that shaped and transformed the early modern cities of the Spanish Netherlands.  
This event brings together leading scholars of this field of art and ritual history whose contributions have made it possible to gain a deeper understanding of the early modern festivities held in the Netherlands to assert and negotiate power between the ruler and the ruled. Together with colleagues and specialists from adjacent disciplines, we aim to discuss the challenges and opportunities of studying such significant moments in history. 
This event was originally scheduled to take place in April 2020 at the Rubenianum in Antwerp and has been postponed. Due to the dynamic situation of the Covid-19-pandemic, the two-day conference will take place in a digital format. Please register for the conference via email to sabrina.lind@UGent.be and ivo.raband@uni-hamburg.de to receive further information and access to the event which uses Zoom as the platform of choice.
Time zone: CET/UTC+1 (Brussels)
Thursday, 10 December, Zoom 
15.30: Welcome by Véronique Van de Kerckhof (Rubenianum) and the organizers Sabrina Lind (Ghent University (FWO)/University of Verona/Rubenianum) and Ivo Raband (University of Hamburg)
15.40: Short Introduction of the Session by Ivo Raband (University of Hamburg)  
Session 1 Art and Power: Joyous Entries between Politics and Aesthetics 
Chair: Bert Watteeuw (Rubenianum) 
15.50: Margaret McGowan (University of Sussex), The Quest for Peace in Princely Entries 
16.30: Tamar Cholcman (Tel Aviv University), Emblematic Crosswords: The Spectator as Player in Joyous Entries 
17.10–17:30: Short Break 
17.30: Alexander R. Dencher (Leiden University/Rijksmuseum), Joyous Entry or Roman Triumph? Art and Ambiguity in the Entry of Willem III of Orange, King of England, into The Hague in 1691 
18.10: Joaneath Spicer (The Walters Art Museum, Baltimore), The Float Celebrating Archduchess Isabella's Support for the Arts in the Brussels Procession of 31 May 1615  
18.50: End of Day 1 and Good-Bye from the Organizers 
Friday, 11 December, Zoom 
15.30: Short Introduction of the Session by Sabrina Lind (Ghent University (FWO)/University of Verona/Rubenianum) 
Session 2 Multimedia and Performance: Joyous Entries and the Need for Interdisciplinarity  
Chair: Samuel Mareel (Ghent University/Museum Hof van Busleyden)  
15.40: Stijn Bussels (Leiden University), Markers of Liminality: Tableaux Vivants in the Joyous Entries of the Low Countries 
16.20: Margit Thøfner (University of East Anglia), Thinking Through Music: Joyous Entry Soundscapes 
17.00–17.20: Short Break 
17.20: Anne-Laure Van Bruaene (Ghent University), Tradition and Rebellion: Entry Ceremonies in Calvinist Ghent (1577–1584)  
18.00: Antien Knaap (Museum of Fine Arts, Boston), Multimediality and Emblematics in Rubens's Pompa Decorations and Frans Francken's Allegory of the Abdication of Charles V 
18.40: End of Day 2 and Good-Bye from the Organizers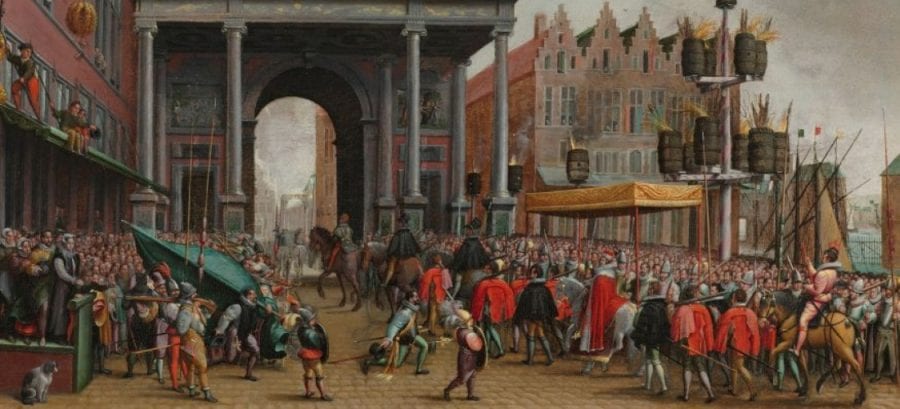 Monogrammist MHVH, Blijde inkomste van de hertog van Anjou in Antwerpen op 19 februari 1582, olieverf of paneel, 61,5 x 82,5 cm, Amsterdam, Rijksmuseum (inv. no. SK-A-4867). Copyright Rijksmuseum, Amsterdam.
The event is organized by the Ghent University, the University of Hamburg and the Rubenianum and made possible through the generous support of the City of Antwerp, the Flemish Government, Ghent University, and the "Hamburgische Wissenschaftliche Stiftung" in Hamburg.