UPDATE: Due to the coronavirus pandemic, this event has been postponed.  A new date and program will be available soon on the program's website.
A study day about the Joyous Entries of the (Spanish) Netherlands and current interdisciplinary research, held at Antwerp's Rubenianum (Kolveniersstraat 20).
On 17th April 2020, the 385th anniversary of the Joyous Entry of Cardinal-Infant Ferdinand of Spain into Antwerp, which had taken place on this day in 1635, the study day will focus on these ephemeral, spectacular, and artistically ingenious events – which in 1635 had been designed by Peter Paul Rubens – that shaped and transformed the early modern cities of the Spanish Netherlands. This event brings together the leading scholars of this field of art and ritual history whose contributions have made it possible to gain a deeper understanding of the early modern festivities held in the Netherlands to assert and negotiate power between the ruler and the ruled. Together with (young) colleagues and specialists from adjacent disciplines, we aim to discuss the challenges and chances of studying such significant moments of history.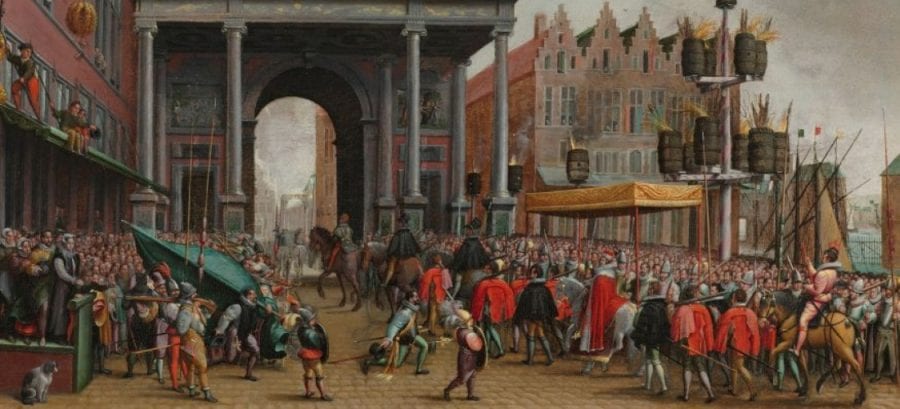 Monogrammist MHVH, Blijde inkomste van de hertog van Anjou in Antwerpen op 19 februari 1582, olieverf of paneel, 61,5 x 82,5 cm, Amsterdam, Rijksmuseum (inv. no. SK-A-4867). Copyright Rijksmuseum, Amsterdam.
PROGRAMME
12.15 | Registration and coffee
13.00 | Welcome by Véronique van de Kerckhof (Rubenianum)
13.05 | Introduction by Sabrina Lind (Ghent University (FWO)/University of Verona/Rubenianum) and Ivo Raband (University of Hamburg)
Session 1
Art and Power: Joyous Entries between Politics and Aesthetics
Chair: Ivo Raband (University of Hamburg)
13.15 | Margaret McGowan (University of Sussex), The Quest for Peace in Princely Entries
13.55 | Frank Fehrenbach (University of Hamburg), Forma Fluens: Allegories of Rivers in Early Modern Triumphant Entries
14.35 | Tamar Cholcman (Tel Aviv University/Herzog August Bibliothek Wolfenbüttel), Emblematic Crosswords: The Spectator as Player in Joyous Entries
15.15 | Coffee
Session 2 
Multimedia and Performance: Joyous Entries and the Need for Interdisciplinarity
Chair: Bert Watteeuw (Rubenianum)
15.45 | Stijn Bussels (Leiden University), Markers of Liminality: Tableaux Vivants in the Joyous Entries of the Low Countries
16.25 | Margit Thøfner (University of East Anglia), Thinking Through Music: Joyous Entry Soundscapes
17.05 | Sabrina Lind (Ghent University (FWO)/University of Verona/Rubenianum), Challenges and Chances by Studying Early Modern Joyous Entries: The Case of the Cardinal-Infant Ferdinand of Spain's Joyous Entry into Antwerp (1635)
17.35 | Coffee
Keynote Lecture
Introduction: Fiona Healy (Independent Scholar, Mainz/Corpus Rubenianum)
18.00 | Christine Göttler (University of Bern), Staging the Silver Mountain of Potosí in Antwerp: Peter Paul Rubens's Arch of the Mint for the Entry of Cardinal-Infant Ferdinand (1635)
Practicalities
Participation in the symposium costs € 40 p.p. (coffee breaks and drinks included). Student rate:  € 25 p.p.
Registration and further information via the program's website.
The event is organized by the Ghent University, the University of Hamburg and the Rubenianum and made possible through the generous support of the City of Antwerp, the Flemish Government, Ghent University, and the "Hamburgische Wissenschaftliche Stiftung" in Hamburg.