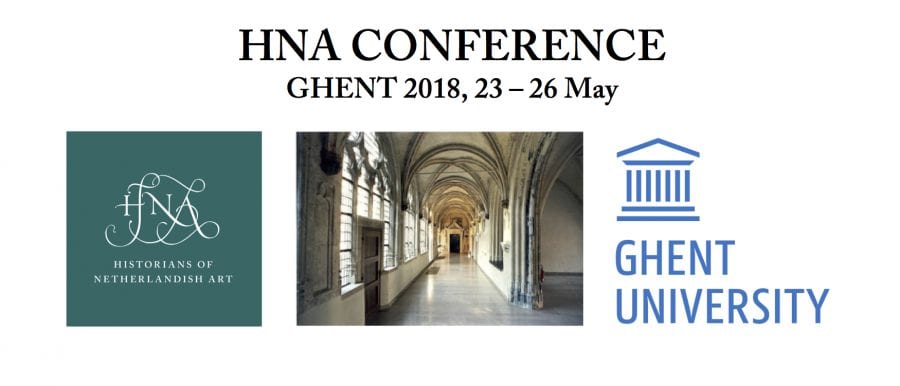 Registration is open for the HNA Conference in Ghent, 23-26 May 2018.  Find all of the current conference information on this page, including schedules of sessions and workshops, registration information, hotel accommodations, etc.
CONFERENCE SCHEDULE
FULL PROGRAM & LOGISTICS HNA 2018 (pdf) (Final version to be included with registration packets)
HNA CONFERENCE GHENT SCHEDULE (pdf) (Table format)
Pecha Kucha List of Speakers (Microsoft Word doc)
Pre-Conference CODARTfocus Mechelen
CODARTfocus Mechelen May 22-23 (pdf)
REGISTRATION Information
The registration website is now open.  Before registering for the conference please be sure that your membership in HNA is current at the time that you register.  You will also be expected to have a current membership at the time of the conference in 2018.
Registration will be handled through a separate website: http://hnaconference2018.eventzilla.net/
This website will track and confirm registration options, and allow for secure payments to be made directly by credit card.  An "early bird" discount was available until December 15, 2017.  Registration for the banquet is now closed.
HOTEL information
Some of the links in the pdf file below did not translate properly, so we have attached also a Microsoft Word document.
HOTELS HNA Conference Ghent (Microsoft Word document)
HOTELS HNA Conference Ghent (pdf)
Link to map with hotel locations
Calls for Sessions and Papers
HNA-Ghent-2018-Call-for-Papers (pdf)
HNA-Call-for-sessions-and-workshops09_2016 (pdf)